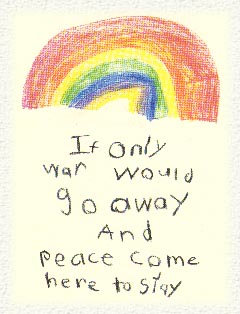 poster from the
01989 Celebration.
When "The Future Is Now" formed in 01986 to organize a Heartland response to the call for a worldwide, simultaneous peace meditation at 12 Noon GMT on December 31 of that year, the intention was for a one time event. However, our first speaker Dr. Robert Muller, so inspired us with his and Margaret Mead's shared vision of the world celebrating as One for the first time in history at the turn of the millennium, we committed to the celebration through the year 02000.
While our primary focus began as the yearly event, the ultimate aim of The Future Is Now is encouraging a deepening awareness of human responsibility in the evolution of the Earth through the process of celebration, which means "to set in motion". Through celebrating together we can overcome the "little peace" of fear and boundary with the greater peace of love and openness to others.
We self organized around ten areas of interest- art, community, communications, education, environment, health, justice, resources, science and spirituality- as a way to emphasize the interrelatedness of life. It is impossible to think about health without considering the environment, science, community or any of the other areas of concern. While the annual celebrations have fluctuated in size through the years The Future Is Now has been a seed bed for several projects- The Heart Forest and the The Center for Global Community.
We have taken inspiration from the futurist Pierre Teilhard de Chardin and his quote "The future of the earth is in our hands.", Dr. Mead's words, "Never doubt that a small group of thoughtful, commited citizen's can change the world. Indeed, it is the only thing that ever has." and Dr. Muller's poem, "See the world with global eyes, Love the world with a global heart, Understand the world with a global mind, Merge with the world through a global spirit."